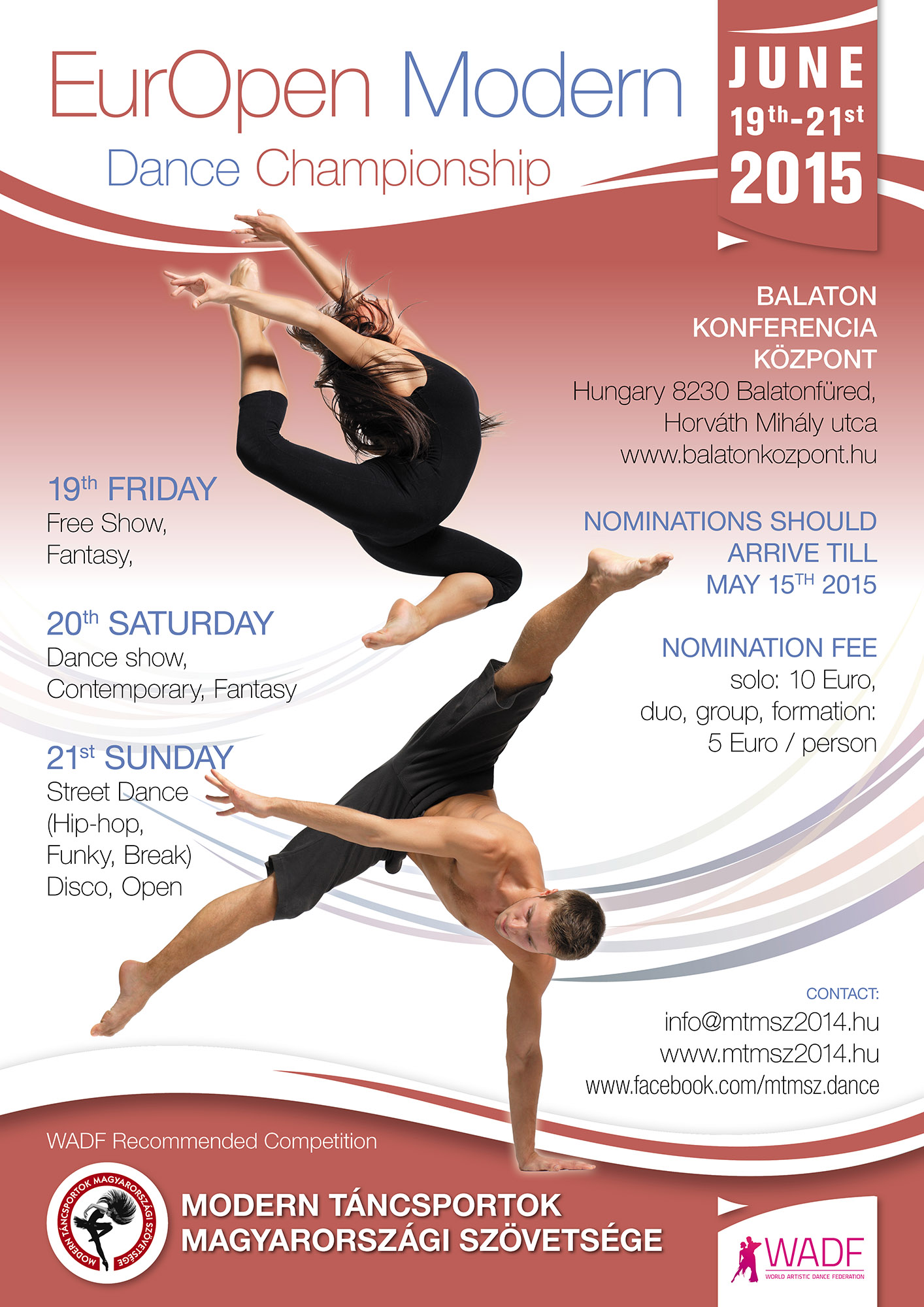 EurOpen Modern Dance Championship
in Balatonfüred June 19th-21st 2015
Balaton Konferencia Központ (Conference Centre of Balaton)
HUNGARY 8230 Balatonfüred, Horváth Mihály street
www.balatonkozpont.hu
1300 competitors of 4 countries: Serbia, Slovakia, Ukraine and Hungary.
We offer you not only a sport event but a great holiday at lake Balaton.
SCHEDULED DAILY PROGRAMME
19th Friday Free Show, Fantasy
20th Saturday Dance show, Contemporary, Fantasy
21st Sunday Street Dance (Hip-hop, Funky, Break), Disco, Open
Nomination fee: solo: 10 Eur
duo, group, formation: 5 Eur/person
Nominations:
Dance disciplines: Free Show, Fantasy, Dance Show, Contemporary, Open, Street Dance (Hip-hop, Funky, Break), Disco
Age groups in 2015: 
mini: dancer born in 2006 and younger
kid: dancer born in 2004-2005
youth: dancer born in 2002-2003
junior: dancer born in 1999-2000-2001
adult: dancer born in 1998 and elder
The dance area is 12 x 12 m covered by plastic carpet, in Free Show categories by fitness carpet.
Jury members are high qualified official judges, there are 5 judges in each category.
Prices: cups for first three in all categories, diplomas to all dancers.
There is no obligatory of hotel reservation by the organiser, but please make your own reservation in time, because Balatonfüred is very popular, and there will be another sport event at the same time. We send you the special accommodation offer.
The conference centre's restaurant will offer you daily menu.
If you are interested in our European Dance Sports Championship please let us know as soon as possible, how many competitors would take part, because the nominations are limited in every category.
We will send you the nomination documents.
If you need any other information, please do not hesitate to contact us.
Organiser: MTMSZ Hungary
Contact:
Mária Szendi-Horváth president of MTMSZ
info@mtmsz2014.hu